Non-Sleep Deep Rest Protocols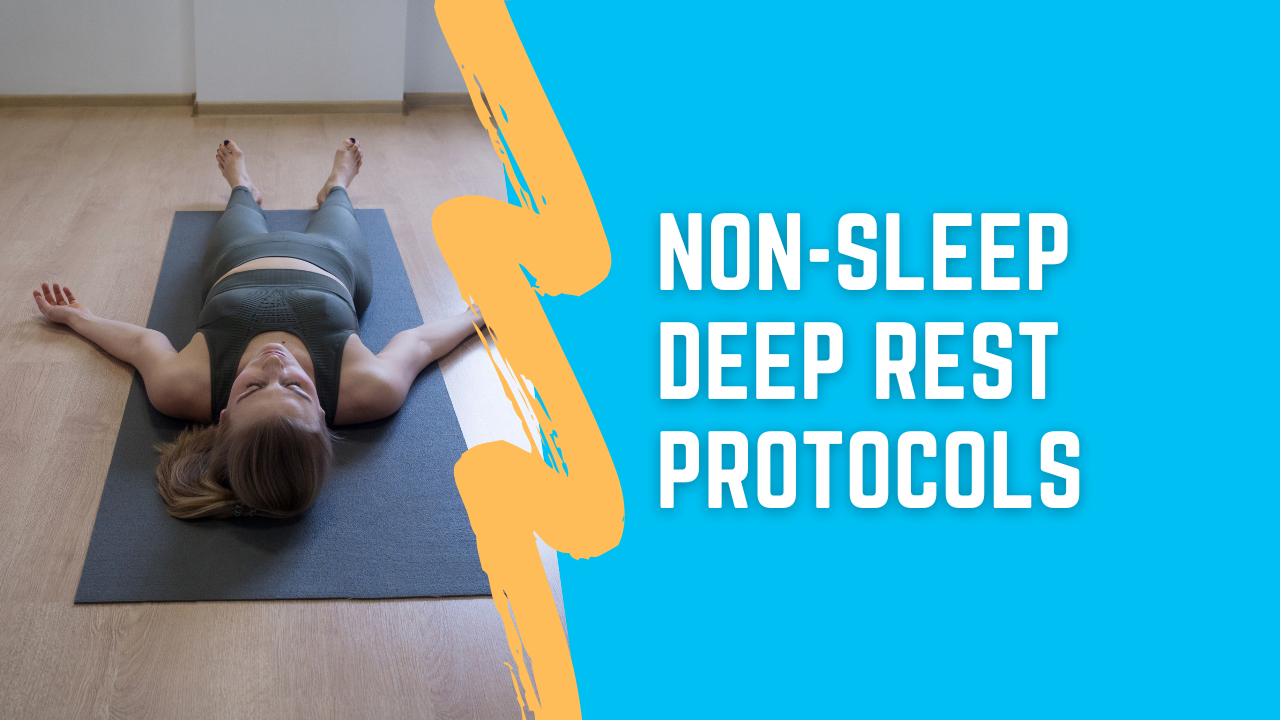 Non-Sleep Deep Rest Protocols
Deep rest is essential to our overall well-being, but it's not always possible to get the recommended amount of sleep every night. Whether it's due to work, family, or personal obligations, there are times when we can't get enough shut-eye.
But that doesn't mean we have to suffer from a lack of rest. There are ways to achieve deep rest even if you're not sleeping, and in this article, we'll explore some non-sleep deep rest protocols.
What is Non-Sleep Deep Rest?
Deep rest is a state of relaxation in which the body and mind can rest and repair. It's different from sleep because it doesn't necessarily involve closing your eyes and drifting off to dreamland. Instead, deep rest can be achieved through various techniques that help to relax the body and quiet the mind.
Why is Deep Rest Important?
Deep rest is important for several reasons. When we're in deep rest, our bodies can repair and regenerate. This is especially important for athletes and those who engage in intense physical activity, as it helps to prevent injuries and promote muscle recovery.
In addition to the physical benefits, deep rest also has several mental and emotional benefits. It can help to reduce stress and anxiety, improve mood, and boost creativity and productivity.
How to Achieve Deep Rest using non-sleep deep rest protocols
Meditation
Meditation is one of the best ways to achieve deep rest without sleep. It involves focusing on a single point, such as your breath, a mantra, or a visual image. This helps to quiet the mind and bring a sense of calm and clarity.
There are many different types of meditation, and you can try a few different techniques to see what works best for you. Some popular options include mindfulness meditation, loving-kindness meditation, and transcendental meditation.
Yoga
Yoga is another excellent way to relax the body and quiet the mind. It involves a series of physical postures, breathing techniques, and meditation practices that work on stretching and strengthening the body, improving flexibility, and calming the mind.
There are many different types of yoga, and you can choose a practice that best suits your needs and preferences. Some popular options include hatha yoga, vinyasa yoga, and yin yoga.
Deep Breathing
Deep breathing is a simple yet powerful technique that can help to calm the mind and relax the body. It involves taking slow, deep breaths through the nose, filling the lungs with air, and exhaling slowly through the mouth.
To practice deep breathing, find a comfortable seated position, close your eyes, and place one hand on your belly. Inhale deeply through your nose, feel your belly rise, and exhale slowly through your mouth. Continue for several minutes, focusing on your breath.
Progressive Muscle Relaxation
Progressive muscle relaxation is a technique that involves tensing and relaxing different muscle groups in the body to help reduce tension and promote relaxation. To practice this technique, start by tensing a muscle group for a few seconds, then release and relax the muscles.
You can start with your feet and work your way up to your head or choose a specific muscle group to focus on. As you tense and relax each muscle group, take a deep breath and focus on the sensation of relaxation.
Guided Imagery
Guided imagery is a relaxation technique that uses imagination to visualize a peaceful, relaxing scene or experience. It can be an effective way to calm the mind and promote deep relaxation.
Find a comfortable seated position and close your eyes to practice guided imagery. Take a few deep breaths to help relax your body. Then, begin to imagine a peaceful, relaxing scene in your mind. This can be a place you've been to or somewhere entirely new. Pay attention to the details of the scene, using all of your senses to immerse yourself in the experience fully.
Guided imagery can be done with the help of a trained professional or with a recording. Many recordings are available that guide you through a peaceful imagery experience, using soothing music and calming words to help you relax.
Some people find it helpful to focus on a specific theme or intention during their imagery practice, such as finding inner peace, releasing stress, or boosting their immune system. Others let their imagination run free and see where it takes them.
Guided imagery can be a very effective tool for achieving deep relaxation and can be practised anytime and anywhere. It can benefit those who have trouble sleeping or cannot get enough sleep due to work or other commitments.
   6. Yoga Nidra
Yoga Nidra, also known as "yogic sleep," is a form of deep relaxation that involves lying in a comfortable position and letting the body and mind rest. It is a state of consciousness between waking and sleeping, in which the body is completely relaxed, and the mind is alert and aware.
During a yoga Nidra practice, the practitioner is guided through a series of body scans and visualizations, focusing on different body parts and releasing any tension or discomfort. The goal is to reach a state of complete physical and mental relaxation, which can be very restorative and rejuvenating.
Yoga Nidra is often practised in a group setting, with a trained teacher leading the session. It can also be practised independently, using recordings or written instructions. It is typically done for about 30-60 minutes, although the length can vary depending on the specific practice.
Some potential benefits of yoga Nidra include reduced stress and anxiety, improved sleep, increased relaxation and well-being, and a sense of inner peace and clarity. It is a wonderful tool for anyone looking to relax and recharge. It can benefit those who have trouble sleeping or seek an alternative to traditional sleep.
Final Say on Non-Sleep Deep Rest Protocols
In conclusion, there are many ways to get rest beyond sleep. Integrating one or more of these protocols into your weekly routine will significantly impact your overwell vigour and well-being if you struggle to get shut-eye and feel anxious or fatigued during the day. I have created multiple NSDR protocols, of which you can find a popular one here.